Every month we compile a list of students doing great things across the Wiregrass. We have so many talented students in our area. Wiregrass Parents joins with their families and schools to celebrate their achievements!

AHS Mass Media Students Win Awards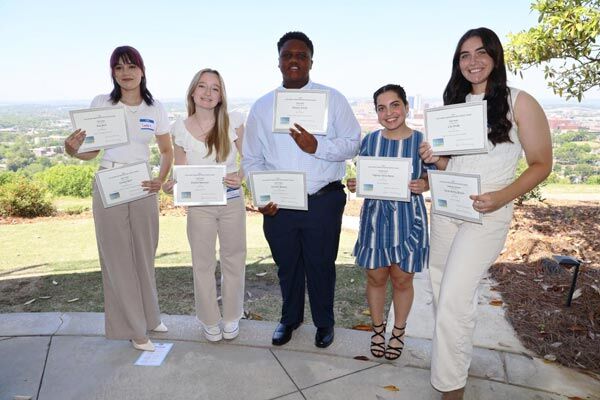 AHS Mass Media won numerous awards at Alabama Media Professionals (AMP) Annual Communication Contest in Birmingham.
– Mason Smith: Sports Photo – 1st Place
– Sena Nane: Sports Photo – 2nd Place
– Amelia Newman: Sports Photo – 3rd Place
– Sarah Bailey Brown: Sports Photo – Honorable Mention
– Cordie Burt: Best Sports Package – 1st Place
– Lily Ondy: Best News Story – 1st Place
– Yesher Bowie: Best Feature Story – 1st Place
– Cordie Burt and Tiger TV: Best Newscast – 1st Place
The AMP Communications Contest rewards excellence in communications in print, broadcast, web, PR, marketing, book authors, podcasting categories, and more. Entries are judged by leaders in their fields of expertise outside the state of Alabama. ACS is proud of AHS Mass Media and Mr. Jared Dillard for representing student-produced media at the state level!

Pick Elementary School 5th Grades Participate in D.A.R.E.
Fifth graders at Pick Elementary School participated in the D.A.R.E. course with classes led by their School Resource Officer, Lavareis Bryant. At the conclusion of the coursework, students submitted essays about the importance of their decisions as they prepare to embark upon middle school about what they have learned from the Drug Abuse Resistance Education (D.A.R.E.) program. The Auburn Police Department is now looking forward to D.A.R.E. Camp for all ACS fifth graders, starting in late June. D.A.R.E. is a nationally recognized program that teaches school-age children the dangers of drugs and how to avoid peer pressure and situations subjecting them to tobacco, alcohol, and drugs. To obtain more information regarding the D.A.R.E. program, don't hesitate to contact Public Safety Administration personnel by calling (334) 501-3110.

LSA 6th and 7th Grade Girls Attend Special Breakfast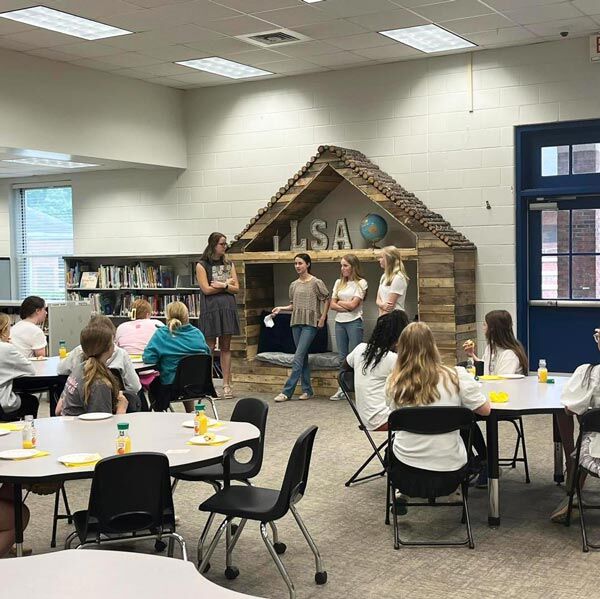 This year's 6th grade girls were invited to a special breakfast with a few 7th grade girls for a transition meeting to Middle School next year! 6th grade girls have been participating in "Picnic & Prayer with the Principal" this semester that led to questions for the year ahead. Who knows better than how to prepare for 7th grade than 7th graders themselves?! Shoutout to Holland Dilworth, Danica Carmack and Reagan Moore for their efforts to prepare answers from questions for our 6th grade girls. Ms. Mungenast, Mrs. Moore and Dr. Martin-Smith hosted the group in the media center with Chick-fil-A and orange juice while the girls answered questions.

LSA Announce College Decisions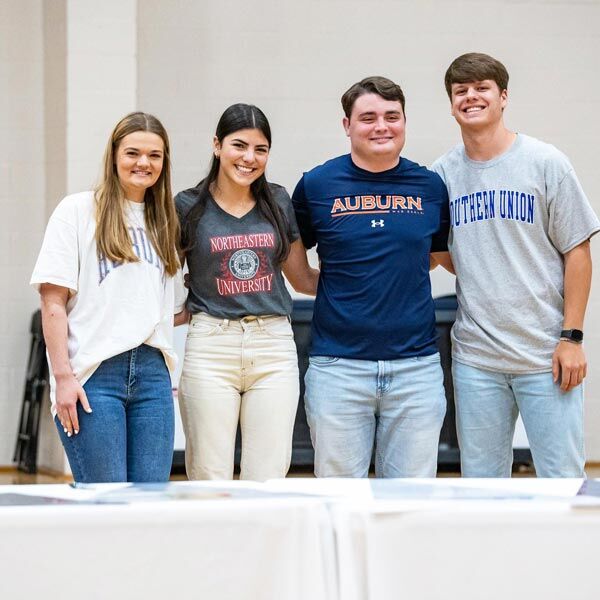 Congratulations to each of our seniors on officially making their college decisions! Ms. Lloyd also announced the senior class favorites and Mr. & Miss LSA as voted on by the senior class and Upper School faculty. This year's 2023 senior class favorites are Kaitlyn Stewart, Maya Esquivel-McKinnon, Trey Fuqua & Ryan Dearing. The 2023 Mr. & Miss LSA are Kaitlyn Stewart and Joseph Horne. From 5 miles to nearly 4,000 miles away from LSA, our students are truly traveling all over the world after they leave us. We're proud, excited and will miss them so!

Lee-Scott Academy Congratulates All-State Band Members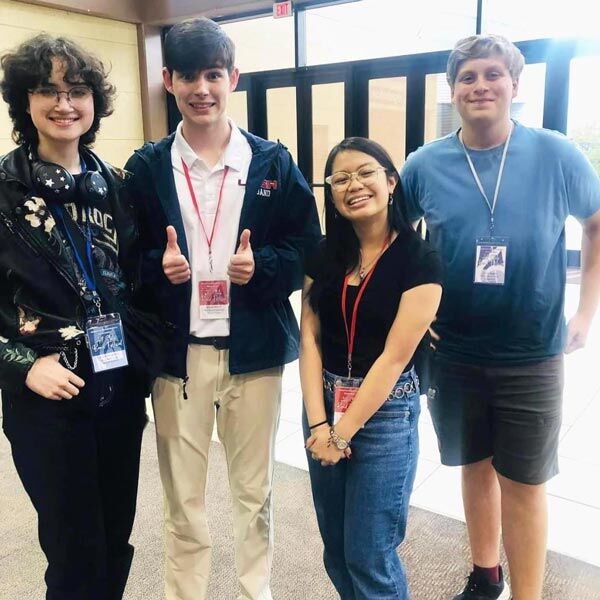 Four Warriors were honored and attended All-State Band in Huntsville. Congratulations to seniors Aisha Roughton and Bryson Moon, sophomore Jaz Revalde and freshman James Bagley and thank you for representing us so well!

OHS Awards 2023 Killgore Scholarships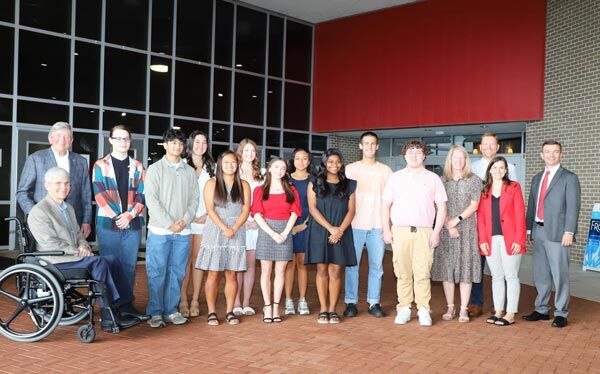 Congratulations to the Opelika High School recipients of the 2023 Killgore Scholarship! Ten seniors were presented with the scholarship during a reception hosted at Opelika High School on April 24, 2023. The 2023 recipients are (pictured l-r): Kason Martichuski, Harsh Patel, Elizabeth Dawe, Ashley Hilyer, Keely Rider, Susannah Couey, Paola Torres Morales, Jaleigha Doolittle, Micah Tring, and Robert Brasher.
Joining the 2023 recipients and their families were Opelika City Council President-Eddie Smith, Opelika Mayor-Gary Fuller, OCS School Board Members-Tipi Miller and Chuck Beams, OHS Principal-Kelli Fischer, and OCS Superintendent-Dr. Farrell Seymore.

Parent Involvement at Dean Road Elementary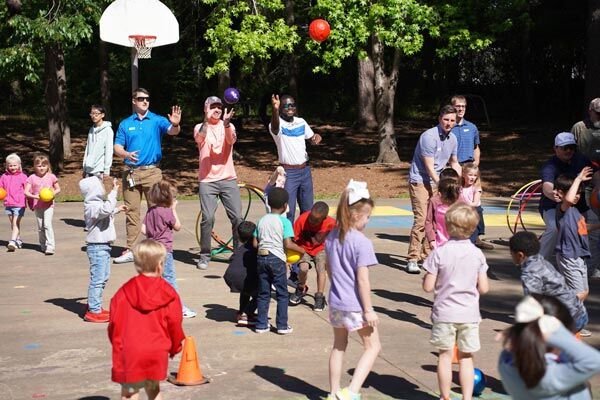 Dean Road Elementary School welcomed dads, guardians, and grandfathers to join in on the fun with students during P.E. classes. Coach Chad Jordan had the men build hula-hoop towers that required protection from frenetic flying of dodgeballs being thrown by the students. After several rounds of the game, everyone walked away with a smile on their face and a pep in their step! This event allowed father figures to connect with their children in an enjoyable and active way!

ACS Track and Field State Bound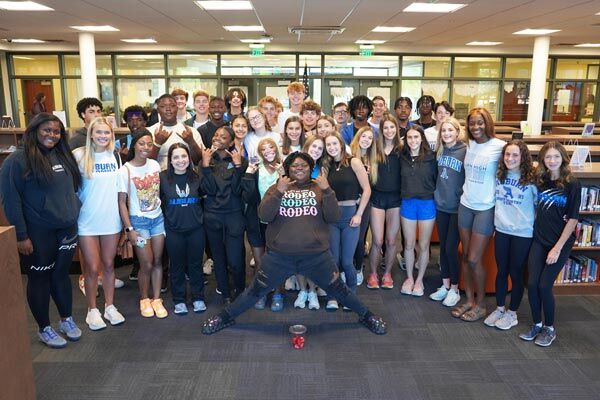 Track and Field teams from Auburn Junior High School and Auburn High School are headed to Gulf Shores to compete in the 2023 AHSAA Class 7A State Championships! ACS wishes our student-athletes and Head Coaches LaDextric Oliver and Olivia Tofani Bowen the best as they represent Auburn at the state level!

ACS Middle Schoolers Participate in Bird, Inc.
J.F. Drake Middle School students participated in "Bird Inc.," a 50-minute factory activity led by John Cranston, a Senior Materials and Process Engineer for the James Webb Space Telescope. Bird Incorporated is a fictional company that produces decoy crows, owls, and turkeys for the U.S. market. During this team-building exercise, students were selected for different roles in the company, such as president, sales, marketing, and engineering. Then the students decided on their hourly wages before analyzing the time-cost tradeoff, allowing them to complete the project using an optimal schedule that led to minimum cost. Ultimately the students concluded that they would need to produce approximately six to ten times the number of decoys per hour to have their company turn a profit. The focus of this lesson for students was to pay attention, follow instructions, and learn from mistakes. Mr. Cranston is an experienced Materials and Process Engineer skilled in Materials Science, Systems Engineering, Research and Development (R&D), Aerospace, and NASA contracts. ACS thanks the Interdisciplinary Center for Advanced Manufacturing Systems (ICAMS) at Auburn University for partnering with J.F. Drake Middle School to bring this educational opportunity to our students!

AHS Celebrates Career Tech Students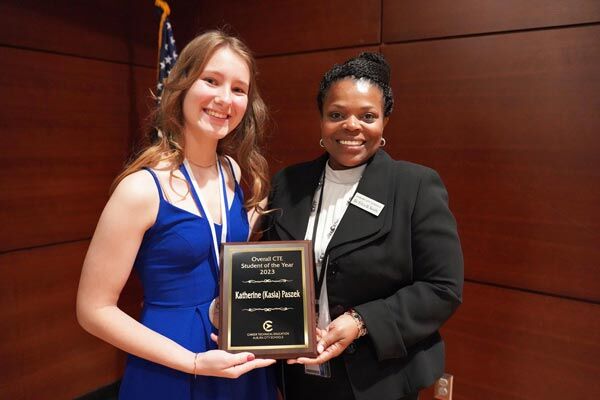 Auburn High School hosted the eighth annual Career and Technical Education (CTE) Awards and Recognition Celebration. Parents, guardians, Board of Education members, and ACS administrators were in attendance to congratulate and honor students who have excelled within their respective CTE programs.
The celebration included:
– Students of the Semester
– Students of the Year
– Scholarship recipients (approximately $64,900 awarded)
– Students who have earned industry-approved Career Readiness Indicators (CRI)
ACS is proud to offer 15 different CTE programs/pathways.
Courses included, but are not limited to, Advertising Design, Construction Technology, Engineering, Health Sciences, JROTC, Precision Machining, and Television Production. ACS CTE is led by Dr. Silvia Scaife (CTE Director) and Mr. Bill Bailey (Career Coach), with 20 CTE teachers on three campuses and more than 1,700 students enrolled in CTE courses.

ACS 2nd Graders Visit Storybook Farm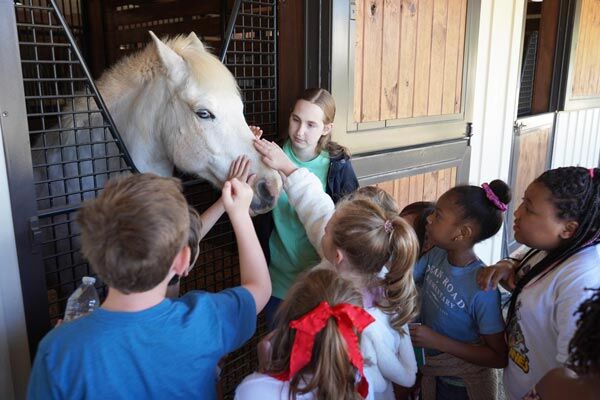 Second graders in Auburn City Schools are enjoying the outdoors while visiting Storybook Farm. Several lessons were learned, including how to safely interact with horses while gaining a deeper understanding of communication with the large animals, sensory activities with canines, and team-building exercises through relay races. As a community partner, Storybook Farm is an educational resource that highlights literature and encourages capturing the wonder of childhood through connection with animals and nature. All the animals on the farm have literary characters as names, and locations throughout the 51 acres are titled with fictional places in childhood stories. ACS thanks Storybook Farm for welcoming and teaching our young students about nature!

ACS 2023 Board of Education Meeting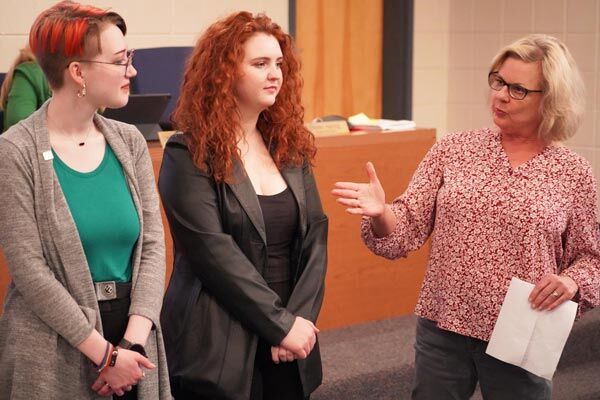 During the April 2023 ACS Board of Education meeting, several students and teachers were recognized by the Board for recent successes. The agenda featured the celebration of Show Choir students, Art students, Teachers of the Year from each school, and the Auburn High School Debate Team. The Auburn Choral Company earned several accolades at the National Show Choir competition in Orlando, including being crowned Grand Champion in two of the three divisions. Twenty students in grades K-12 competed in the 2023 State Superintendent Visual Art Exhibit in Montgomery, with four students placing at the state level. All 13 Teachers of the Year were honored for their excellence and positive impact they have on Auburn City Schools. The AHS Debate team won numerous awards at the Alabama State Speech and Debate Tournament in Tuscaloosa, including three state-level winners and four state champions.

AHS Theatre Performs Seussical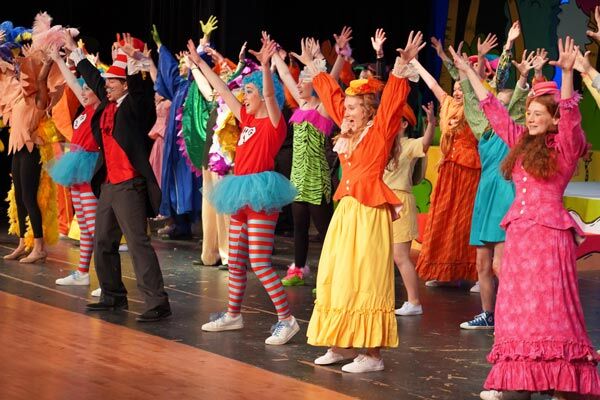 Auburn High School Theatre Department performed a dress rehearsal of Seussical the Musical for ACS fourth and fifth graders in preparation for their public shows. Seussical is a musical comedy based on Dr. Seuss's many children's stories. Most of its plot is based on Horton Hears a Who!, Gertrude McFuzz and Horton Hatches the Egg while incorporating many other stories.

AHS Tennis Teams Win at State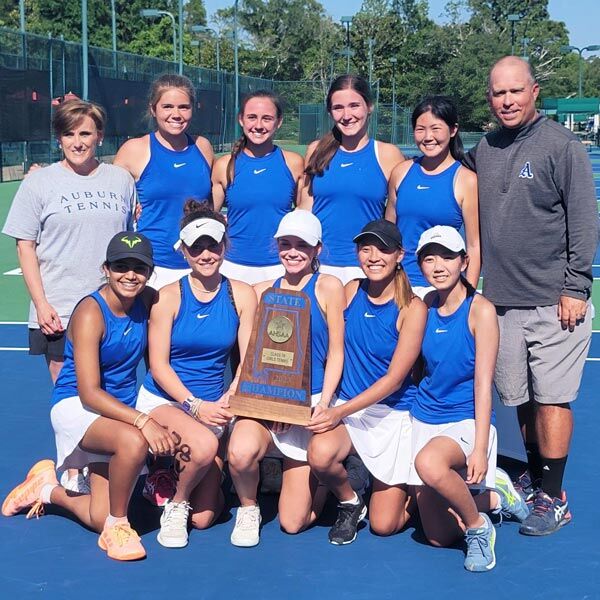 The Auburn High School Varsity Tennis teams competed in 2023 AHSAA Class 7A State Championships in Mobile earning several accolades including the girls securing a Blue Map trophy! The boys finished third overall with Luis Jeong and Kaleb Kirkland earning the #3 Doubles State Championship!
Additional State Champions include:
– Claire Bosman and Camilla Bosman: #1 Doubles
– Sophie Smith and Hanbi Youn: #3 Doubles
– Camilla Bosman: #2 Singles
– Victoria Choo: #4 Singles
– Shreya Ejantkar: #5 Singles
– Kathryn Kirkland: #6 Singles

AHS Scholarship Signing Day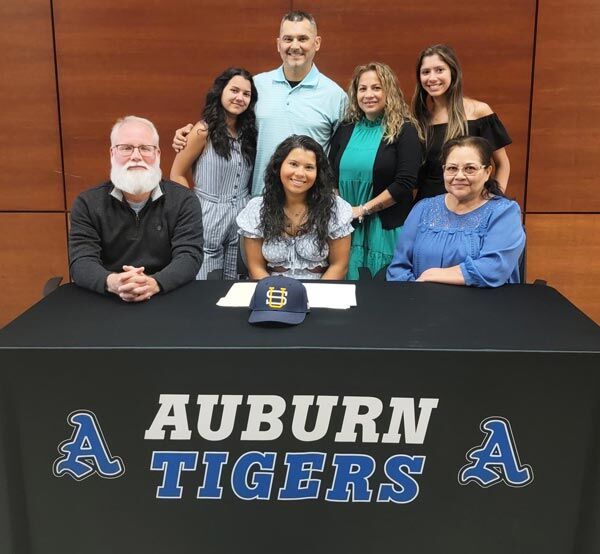 Auburn High School's! Auburn High School had the privilege of hosting seven signings for student-athletes.
Saneya Gutierrez signed with Southern Union State Community College to further her education and play soccer
Will Best – Signed to play football at Millsaps College
Klark Cleveland – Signed to play football at Berry College
Coleman Granberry – Signed to play football at Auburn University
Clyde Pittman – Signed to play football at Southern Methodist University
Mark Toland – Signed to play football at Berry College
Graham Young – Signed to play lacrosse at the University of Alabama at Huntsville
ACS wishes the best for all these students as they embark on their collegiate journey to compete in their respective sports while furthering their education!

Olgetree Elementary's Music Teacher Wins the 2023 Curriculum and Teaching Alumni Award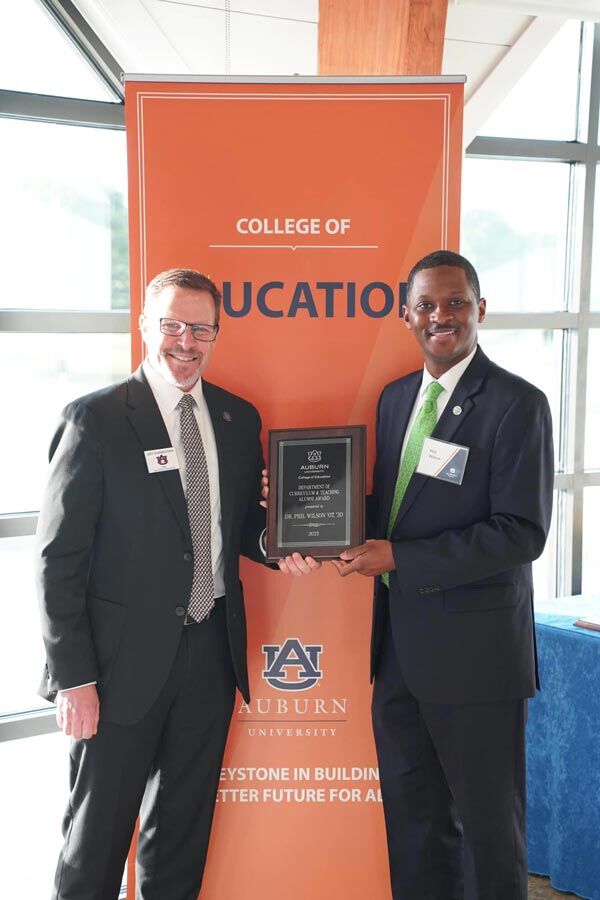 Dr. Phil Wilson has been presented the 2023 Curriculum and Teaching Alumni Award from Auburn University's College of Education! Dr. Wilson is in his 22nd year of teaching with experience at all levels of band and choral music. His philosophy of music education is that music is for everyone. At Ogletree Elementary School, Dr. Wilson teaches music to all students once a week for 50 minutes with lessons guided by the Alabama Course of Study for Arts Education and the National Standards for Music Education. Dr. Wilson holds a Bachelor of Music Education from Troy University in addition to a Master of Music Education and a Ph.D. from Auburn University. He has attained National Board Certification in Early and Middle Childhood Music Education and recently renewed his certification in 2020. ACS celebrates Dr. Wilson's love for music as he educates young people in Auburn!

AHS Boys Golf Team Wins at Sectionals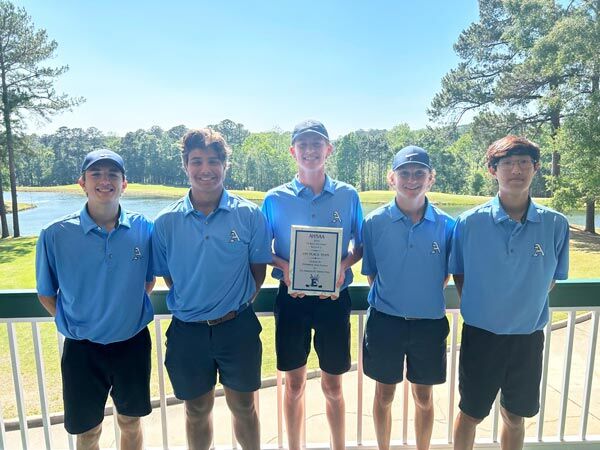 The Auburn High School Varsity Boys Golf team finished in 1st place at Sectionals in Enterprise, AL., with a team score of 314. Prather Reaves qualified as an individual to represent AHS at Sub-State in Mobile and Charlie Wilson was named to the all-tournament team with a round of 77.

Pick Elementary School Tastes the World
From baguettes to churros, Pick Elementary School's Child Nutrition Program (CNP) has prepared menu items for past two weeks highlighting food from across the globe! The CNP Manager at PES, Eva Puk, is originally from Poland and embraced the idea of enriching students' palettes through the introduction of new and unique meal options while also providing the opportunity for many students to see their cultures celebrated. Auburn City Schools is proud to support the variety of delicious delicacies that made lunchtime an educational experience!

TCS Presents Student Art Work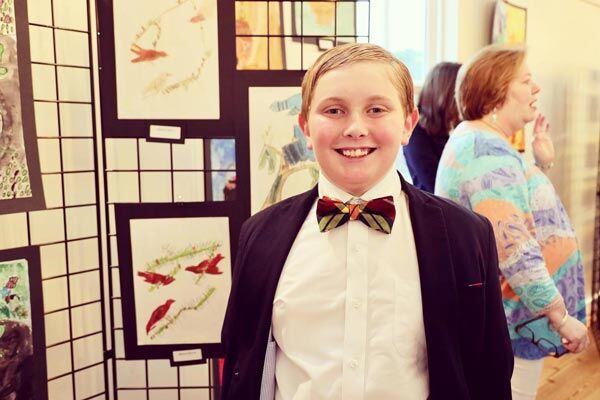 Trinity Christian School invited parents and students to view the school's Art Show at the Art Haus. What a great way to display the art talent among the students.

Trinity Christian School Presents Story of Moses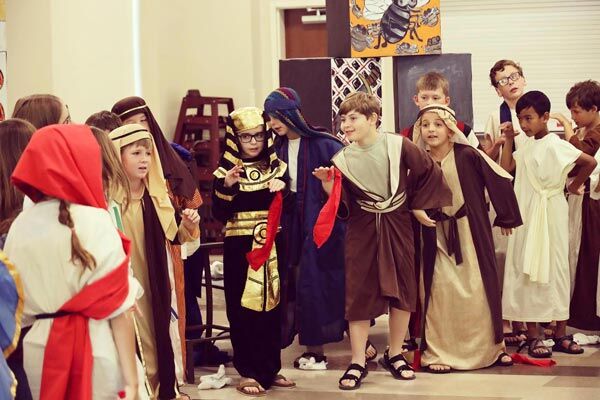 The 3rd Grade presented The Story of Moses and demonstrated God's faithfulness!

AHS Girl's Golf Wins 1st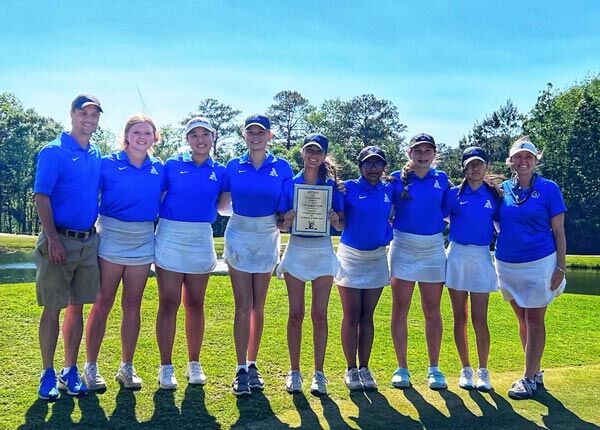 The Auburn High School Varsity Girls Golf team won 1st place at Sectionals. They will advance to Sub-State in Mobile to qualify for the State Tournament, which will be hosted at Grand National in Opelika. Sophia Pastor (7th grader) and Abbey Crowe (11th grader) also qualified as individuals for Sub-State!

AEEC Hosts Multicultural Night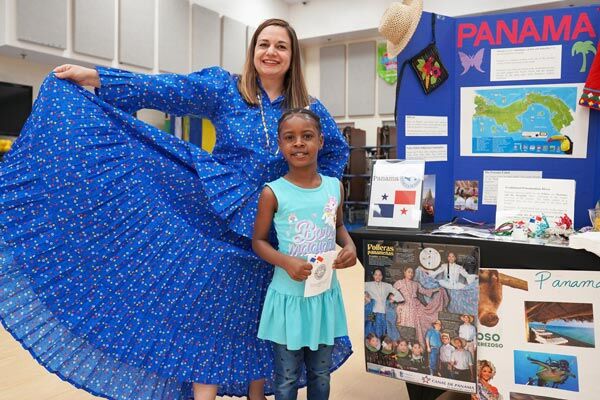 Auburn Early Education Center hosted a Multicultural Night for students and families to learn and share about heritages and traditions from across the globe. With more than a dozen countries represented, guests received a passport at the entrance to be stamped at each stop on their journey. From customary attire and music to traditional crafts and dining, the evening was full of appreciation for the diversity within Auburn City Schools. ACS celebrates the diversity that enriches the learning experience for our students!

LSA Senior and 1st Grade Buddies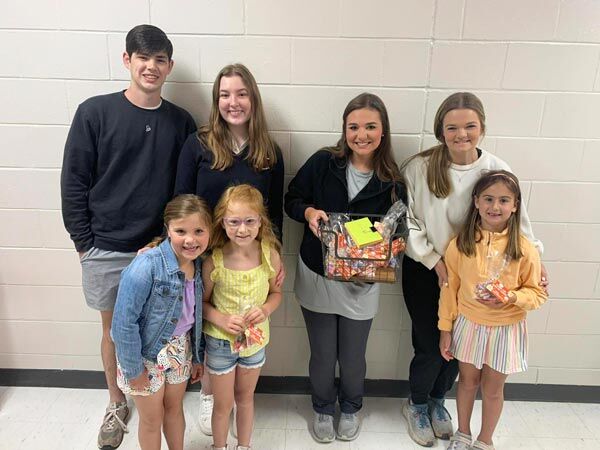 Seniors delivered a basket of treats and notes to their first grade friends. Our seniors and first grade buddies have loved being together all year long. These friendships between students in such different life stages end up being so special and meaning so much to both grades!

JROTC Celebrates with Awards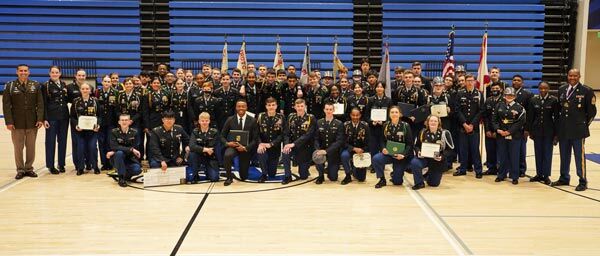 The U.S. Army Junior Reserve Officers' Training Corps (JROTC) program celebrated this year's Tiger Battalion with the annual Awards Day Ceremony! With cadets standing at attention in their Army Dress Blues and freshly-shined shoes, the gymnasium at Auburn High School brimmed with proud supporters of the young people being honored. In addition to the many awards, accolades, and scholarships presented in the program, this year, parents and guardians actively participated in the promotion process of cadets with the placement of epaulets, which signify their new rank within the battalion. JROTC develops strong character and leadership skills while teaching young people to be better citizens whether they pursue a military career, post-secondary education, or join the workforce. This Career Technical Education (CTE) program has two instructors in LTC (Retired) Anthony Benitez and 1SG (Retired) John Audaine but is student-led with approximately 110 cadets currently in Tiger Battalion. ACS is proud of all the cadets of Tiger Battalion and how they represent Auburn in and out of the classroom!

Congrats to LSA National Spanish Exam Medalists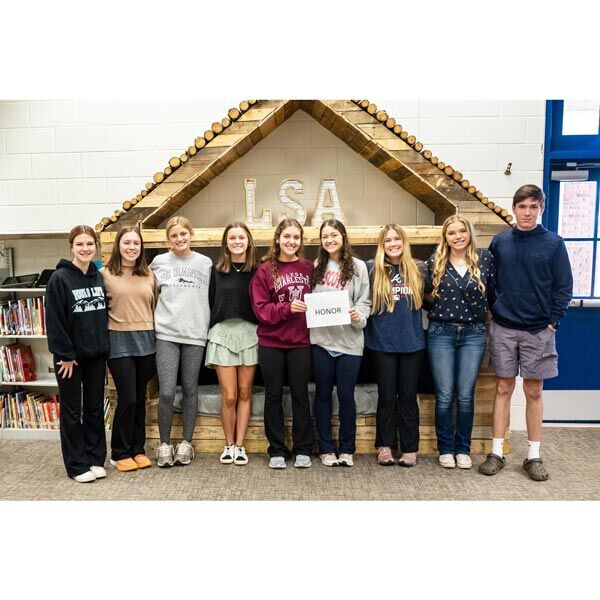 Felicidades to each of these students for a job well done on the National Spanish Exam!
Overall, in Spanish 3 LSA had five gold medalists, three silver medalists, five bronze medalists. and nine earned Honorable mentions. In all, 22 out of 24 placed nationally on this exam!
In Spanish 4, students attempted two different levels! On their level 3 test, LSA had a gold medalist, two bronze medalists and four earned honorable mentions. In all, seven out of nine placed nationally on that level. On their more advanced test, LSA had three bronze medalists and three honorable mentions. In all, six out of nine placed nationally on this exam.
These students are enthusiastic and thoughtful and work incredibly hard with Sra. Zellner to do this well on these tests! We're so proud of them.

Lee-Scott Academy 5th Graders Visit Alabama 4-H Science Center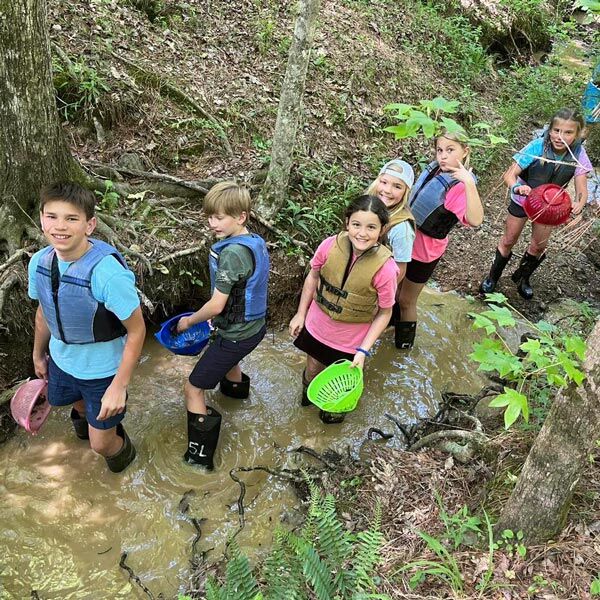 LSA 5th Graders made their annual trek to the Alabama 4-H Science Center in Columbiana.
Students canoed, learned archery, climbed the rock wall, studied ecology by wading with nets in Lay Lake, went fishing and dissected fish, learned survival skills like fire and shelter building and participated in many team building challenges that grew not only their teamwork skills, but their friendships as well. They learned about the nature they have studied all year long by spending time in God's beautiful creation!

ACS All-State Band Attends Festival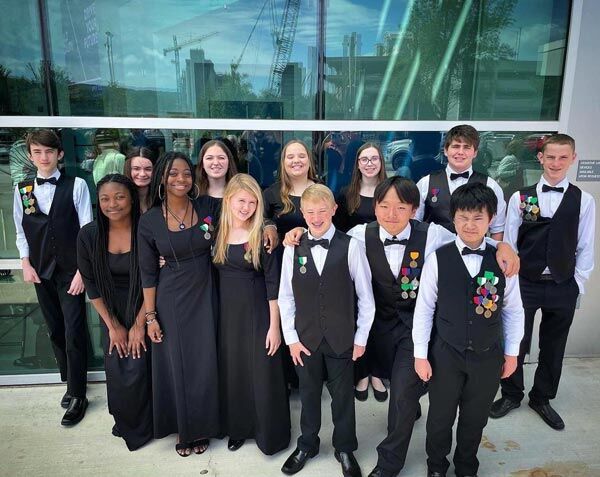 Students from East Samford School, Auburn Junior High School, and Auburn High School represented ACS in the All-State Band Festival in Huntsville, AL. The festival aims to distinguish the most outstanding band students in Alabama, allowing them to perform and have a musical experience of the highest caliber while showcasing their talents through an extensive audition process. ACS is proud of these students' hard work and dedication to the musical arts!

Lee-Scott Academy Students Attend Leadership Convention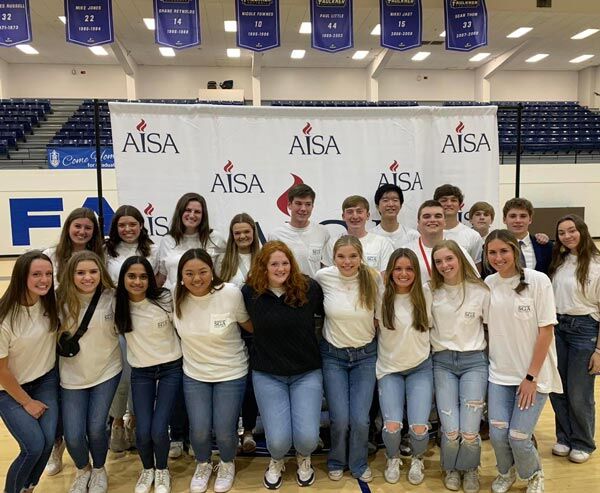 The 2023 AISA Spring State SGA Leadership Program Convention was held at Faulkner University. Our SGA leadership team attended and was able to support 2023-24 LSA SGA President Miles Zachry as he gave an address. Additionally, Mrs. Leslie Moore was officially recognized at the event for being named AISA AAA Elementary Teacher of the Year.
Lee-Scott was well represented at the convention this year and we're incredibly proud!

AJHS's Mallory Kincaid Wins 2023 Assistant Principal of the Year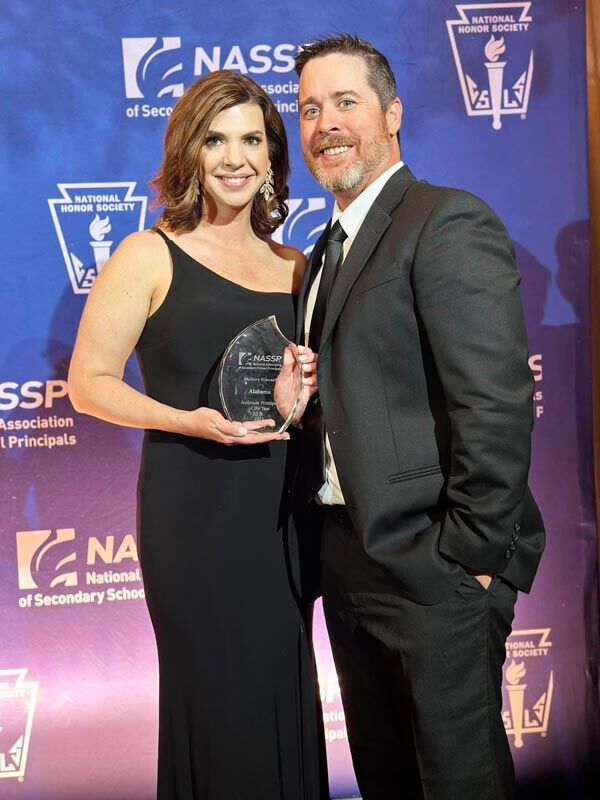 Auburn Junior High School Assistant Principal Mallory Kincaid was named the 2023 Assistant Principal of the Year by the Alabama Association of Secondary School Principals. As a part of this distinguished honor, Mrs. Kincaid was recognized at the 2023 National Association of Secondary School Principals (NASSP) Trailblazing Leadership Week in Washington, D.C. (April 24-28). This event is exclusively for members of the Principal of the Year Leadership Network Group where the NASSP Principal of the Year Alumni Network Group connects past State Principals of the Year and NASSP Digital Principals of the Year with meaningful opportunities to engage with each other. Mrs. Kincaid is in her fourth year as Assistant Principal at Auburn Junior High School and has 17 years of experience working in public education. She received this honor for demonstrating exceptional leadership, earning the respect of students, colleagues, parents, and the community at large while setting high expectations for school staff and students. The belief that "relationships are the foundation of leadership" has led to the building of a positive school culture and climate at Auburn Junior High School. Kincaid works to build relationships with all stakeholders. By supporting and encouraging teachers as well as ensuring students are academically, socially, and emotionally prepared, Kincaid has influenced the school culture in a way that has helped the school community to overcome hurdles such as teacher burnout, teacher retention, student performance, and overall morale.

St. Michael Catholic School Learns from Great Artists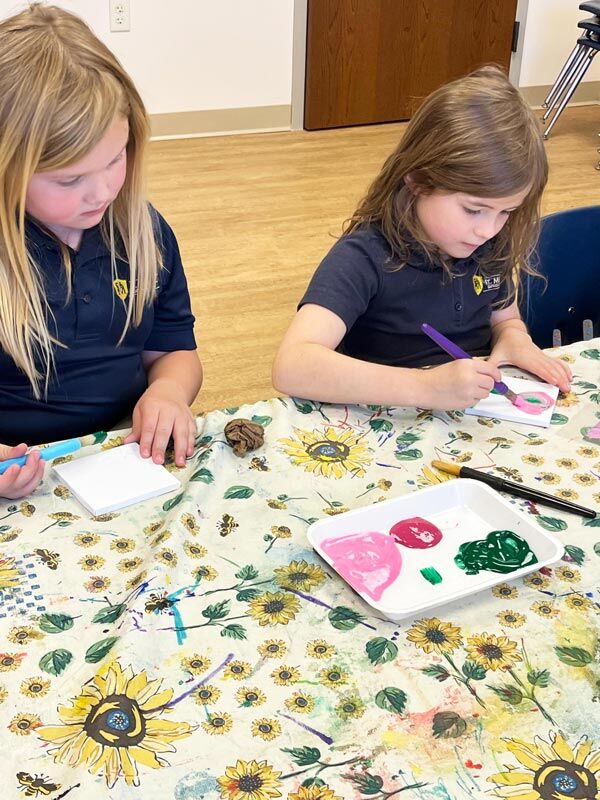 In preparation for the spring's Fine Arts Showcase, students in Mrs. Strickland's art class looked to established artists to learn more about their preferred art styles. Our hallways are adorned with artwork inspired by Georgia O'Keefe's flower paintings, Paul Klee's block paintings, Henri Matisse's snail collage and cutouts, Piet Mondrian block paintings, and even Leonardo da Vinci's Mona Lisa!

SMCS Third Graders Rock the Science Lab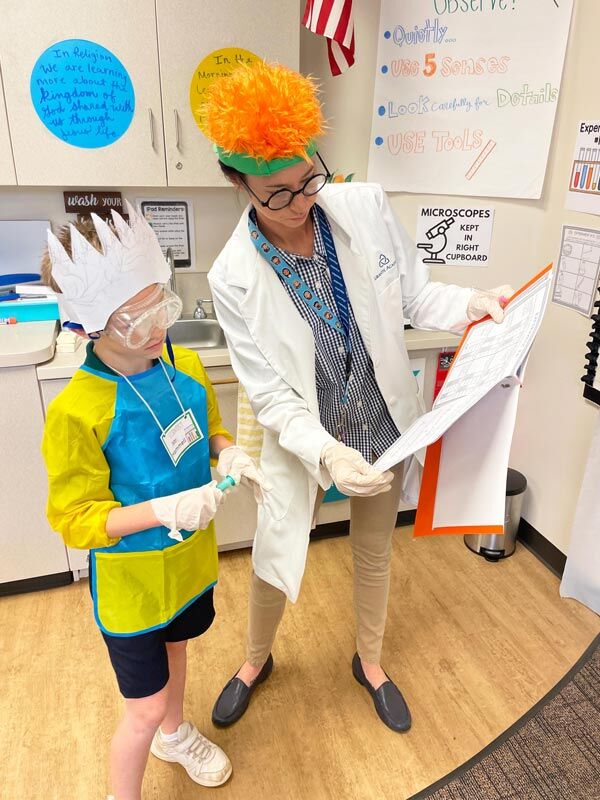 During our last quarter, our third grade classroom incredibly transformed into the "Mad About Measurement" science lab! Third grade scientists performed all sorts of science experiments measuring mass and volume with glowing liquids in beakers and graduated cylinders under the tutelage of their mad scientist teacher.

SMCS Celebrates God's Creation on Earth Day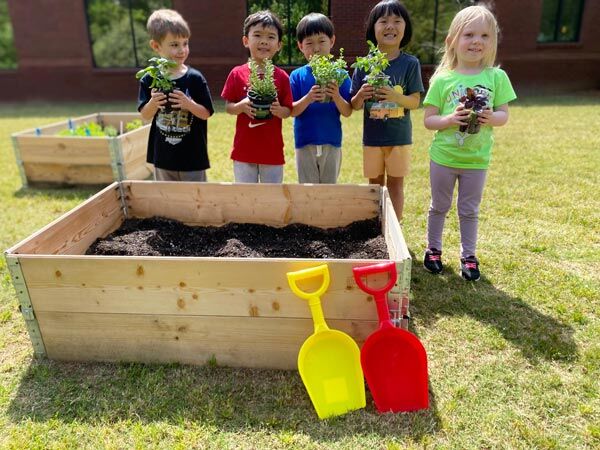 Our PreK-4 students planted a sensory garden with plants to smell, see, touch, taste, and a wind chime to hear blowing in the wind. They also had a chance to touch worms! What an amazing world we live in!

Auburn Classical Academy Students Enjoy the Great Outdoors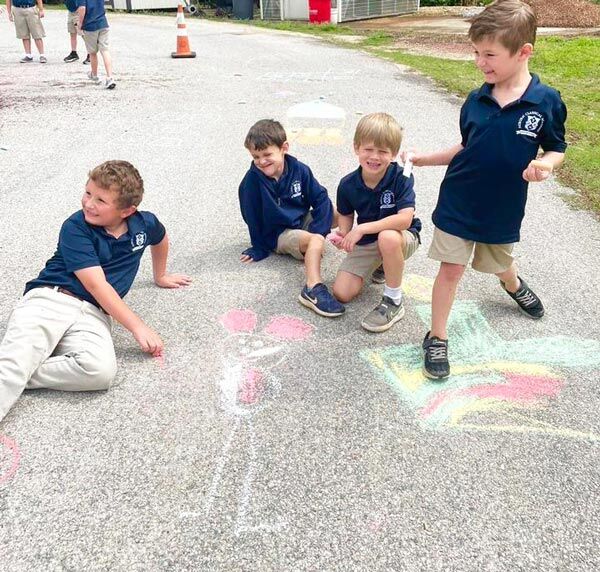 Auburn Classical Academy Kindergarten boys enjoyed spending time outside. The students enjoy supplementing what they learn in the classroom in the great outdoors! Here, they are drawing the shapes and designs they have learned over the school year.

Lee-Scott Academy Learn About Fossils
3rd Grade has been learning all about fossils in STEM with Mrs. Bodine. They were able to practice being paleontologists and identifying different types of fossils. The most interesting being coprolite.

LSA 5th Graders Engineer an Ozobot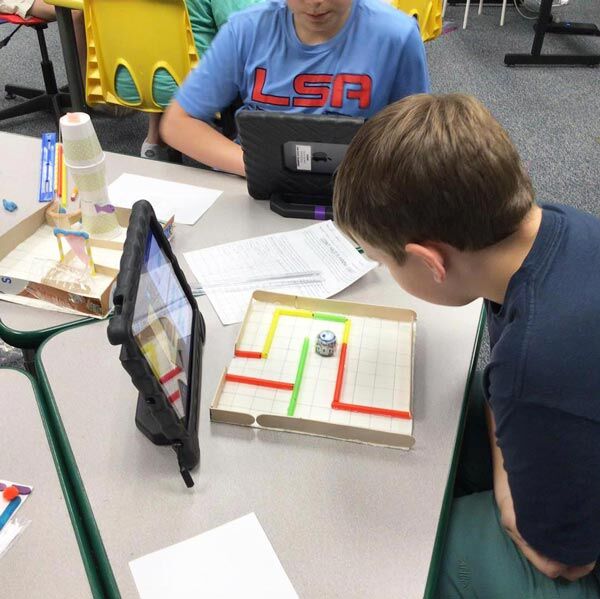 Fifth graders had an amazing opportunity to engineer their own Ozobot maze and program their Ozobot to travel through it! Students planned and created their mazes in STEM class. Some students engineered a maze with a theme and others had tunnels for their Ozobot. Upon completion, fifth graders brought their maze to technology class with Mrs. Jones and were able to program their Ozobot to travel through every twist and turn!

LSA Receives Donation to Music Department
Lee-Scott Academy thanks Jonathan Hendrix and Rachel Pair from Spicer's Music immensely for their generous donation to the Lee-Scott Academy music department! Spicer's Music gives a percentage of their lesson program proceeds to the local schools that their lesson students attend. What a generous gesture from Spicer's and we appreciate their support of our programs and our students!